Select an output style in the menu bar under Tools > Output Styles, or using the output style drop-down menu at the bottom of your EndNote library's reference summary panel. This drop-down menu is circled in the image below.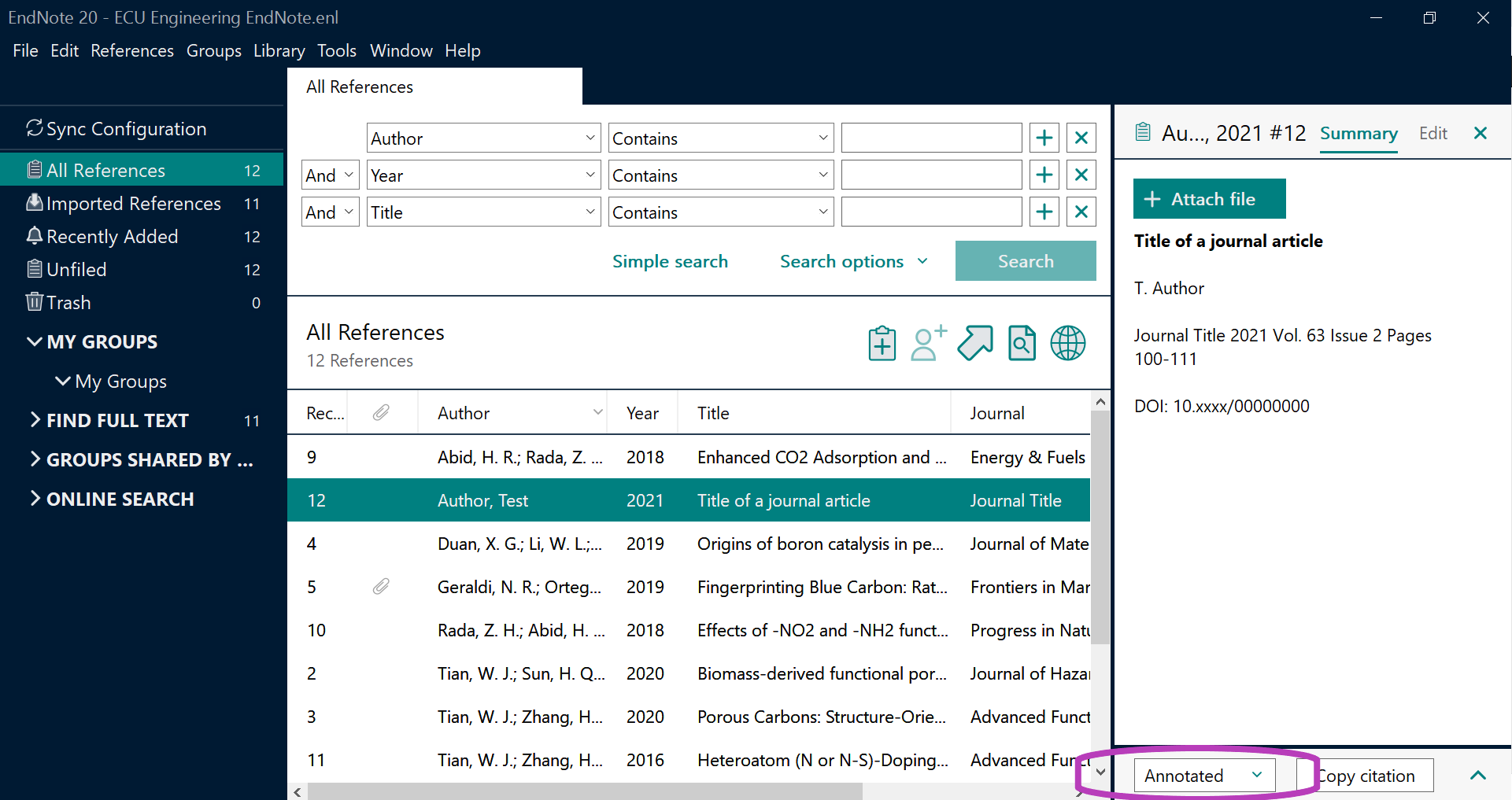 The default style is Annotated, and a number of common styles will be available under the drop-down menu.
The APA 7th style of referencing is used in most courses across ECU. However, some disciplines may use a different style, e.g. AGLC4 for Law. Researchers are also required to use various styles in publishing, as determined by the journal. Check your unit outline or the author guidelines for publishing to see what style you should be using.
EndNote comes pre-loaded with many of the most popular styles including APA, Chicago, MLA, and Vancouver, as well as a number of styles for specific journals. APA 7th is available on student computers (choose 'Select Another Style...' to find it). Staff and those who downloaded EndNote before mid-December 2019 might need to download APA 7th.
---
Downloading a Style
Some additional styles that are not already available in EndNote, or updates to current styles, can be downloaded from the EndNote website.
e.g. Strength and Conditioning Journal style. Installing this Referencing Output Style file will allow EndNote to format your references properly for submission to the Strength and Conditioning Journal. To download the style, follow the instructions at the linked site.
If you are looking for a specific style required by a journal, in some cases the journal will provided a downloadable EndNote style, or the style will be available through external organisations. For example, the Journal of Australian Strength and Conditioning provides a downloadable style in their author guidelines, and the AGPS adaption of Harvard style is available to download through the University of Queensland.
As long as the styles download as .ens files, you can add them to EndNote using the installation instructions below. For more help, search for 'Output styles' at EndNote's support site: